Schooling Superdiversity: Linguistic features as linguistic resources in two Manenberg classrooms in the Western Cape
Abstract
This study is a working paper which addresses the need for the accom-modation of linguistic diversity and mixed linguistic repertoires in the classroom context, due to the rise and changes in migration patterns, as a result of globalization. More specifically, it focuses on linguistic diversity and mixed linguistic repertoires amongst pupils in post- apartheid South African classrooms and investigates how the borrowing of linguistic features by teachers and learners can be used as linguistic resources in the classroom context. By investigating how an informal variety of speech, the borrowing of features across languages, can be utilized as linguistic resource in the classroom context, this paper proposes a move away from formal classroom discourse, to more informal varieties brought to the classroom by learners. Even though scholars such as Woolard (1994) and Ritzau (2014) have highlighted how the ideologies present in institutional settings, perceive the borrowing of linguistic features as an indication of 'less than full linguistic capabilities' (Woolard, 1994:63), various other studies have emphasized the benefits of such language practices in the classroom (see Park, 2013; Blackledge and Creese, 2010b, Canagarajah, 2011). My study will thus also investigate how the language ideologies of the teachers in these two classrooms, affect the occurrence or absence of the borrowing of linguistic features, in this space. The research topic was studied in two grade r classrooms in the area of Manenberg, where classroom observations were used as the main research technique, complimented by interviews and field notes. It can therefore be argued that the study used qualitative research techniques and borrowed research methods from the field of anthropology as some of these methods resemble studies ethnographic in nature. Finally, interactional sociolinguistics was used as the analytical tool.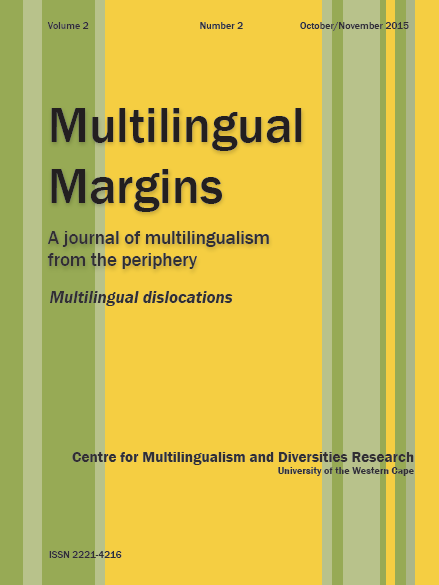 How to Cite
MADELL, Madelynne. Schooling Superdiversity: Linguistic features as linguistic resources in two Manenberg classrooms in the Western Cape.
Multilingual Margins: A journal of multilingualism from the periphery
, [S.l.], v. 2, n. 2, p. 78, june 2017. ISSN 2221-4216. Available at: <
http://epubs.ac.za/index.php/multiling/article/view/75
>. Date accessed: 25 sep. 2018.
Section
Post Graduate Research Synopsis